Wahl died after falling while covering the Argentina-Netherlands match on Friday. The circumstances of his death are unknown.

A witness informed CNN that he "collapsed" while covering the Argentina-Netherlands match on Friday. (Also Read: Japan Italy and the UK collaborate on a new fighter jet)

The World Cup organizers in Qatar announced on Saturday that Wahl "felt sick" in the press area and received "urgent medical attention on site." According to a representative for the Supreme Court Committee for Delivery and Legacy, the entity in charge of organizing the tournament, he was subsequently moved to Hamad General Hospital.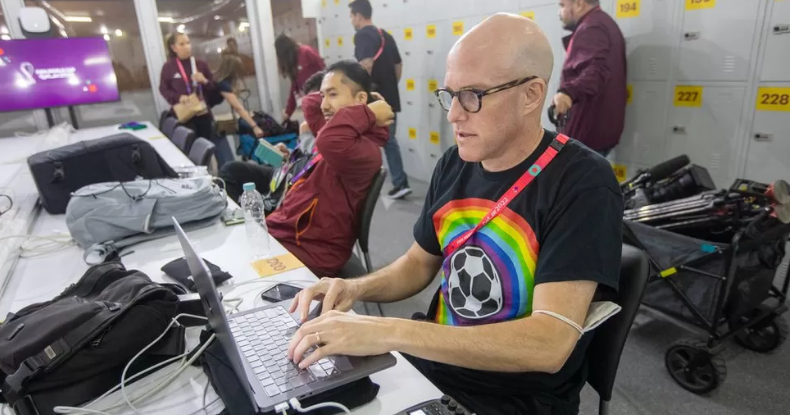 According to Keir Radnedge, a columnist for World Soccer Magazine, he was treated in the stadium "for perhaps 20 to 25 minutes" before being taken to the hospital.

"This happened at the end of extra time in the game. Suddenly, colleagues to my left began yelling for medical help. Someone had obviously collapsed. People were able to move the chairs because they are freestanding, allowing them to create some space around him, Radnedge explained.

He went on to say that the medical team arrived "very soon and were able to provide care as best they could."

The circumstances of his death are unknown.

"The whole US Soccer family is heartbroken to learn of Grant Wahl's passing," US Soccer said in a statement posted to its official Twitter account.

Grant dedicated his life to soccer, and we are heartbroken that he and his excellent writing will no longer be with us.

US Soccer expressed their sympathies to Wahl's wife and loved ones, praising his dedication and "conviction in the ability of the game to improve human rights."

Gounder also tweeted the US Soccer statement.

"I am overwhelmed by the generosity of my husband Grant Wahl's soccer family and the many friends who have reached out to me tonight. "I'm really taken aback," Gounder, a former CNN contributor who was a member of the Biden-Harris transition COVID-19 advisory board, tweeted.

Ned Price, a representative for the US State Government, said the department was in "close communication" with Wahl's family. The World Cup organizers also stated that they were in contact with the US Embassy "to guarantee that the process of repatriating the body is in compliance with the desires of the family."

According to his website, Wahl had covered soccer for more than two decades, including 11 World Cups—six men's and five women's—and several books on the sport.
He had recently spent his birthday with "a terrific bunch of media friends at the World Cup," according to a message on his official Twitter account, which added, "Very appreciative for everyone."

I'm sick.

He had complained of feeling sick on an episode of the podcast Futbol with Grant Wahl, published just days before his death on December 6.

"It had grown awful in chest tightness, stiffness, and pressure." "I'm having a poor hair day," Wahl revealed to co-host Chris Wittyngham during the show. He also stated that he sought treatment at the World Cup media center's medical facility, assuming he had bronchitis.

He was given cough syrup and ibuprofen and reported feeling better soon after.
Wahl also stated that following the US-Netherlands game on December 3, he felt an "involuntary capitulation by my body and psyche."

"It's not my first rodeo." On the men's side, I've completed eight of these. He stated at the time, "And so, I've gotten sick to some extent in every tournament, and it's just about trying to get your work done."

He went on to detail the occurrence in a December 5 message, stating that his body had "broken down" due to a lack of sleep, excessive stress, and a hard job. He'd had a cold for ten days before it "developed into something more severe," he wrote, adding that he felt better after getting antibiotics and catching up on sleep.

Wahl's passing has sent shockwaves throughout the soccer and sports journalism communities, with many people offering tributes on social media.

"Only a few days ago, FIFA and AIPS (the International Sports Press Association) honored Grant for his commitment to reporting on eight successive FIFA World Cups," FIFA President Gianni Infantino said in a statement.

Infantino and FIFA media director Bryan Swanson was in the hospital on Saturday to provide any assistance required to his family, friends, and journalists who shared his house in Qatar.
The co-editors in chief of Sports Illustrated, where Wahl spent the majority of his career, issued a joint statement saying they were "shocked and grieved" by the news of his death.
"We were delighted to call him a colleague and friend for two decades—no writer in (Sports Illustrated's) history has been more passionate about the sport he loved and the stories he wanted to tell," the statement stated.

Wahl began working for the publication in November 1996, according to the article. He volunteered to cover the sport as a junior reporter before it reached the heights of global fame it now enjoys, eventually becoming "one of the world's most respected soccer authorities," according to the statement.

Wahl has collaborated with other media outlets, including Fox Sports, according to the release. He started his podcast and newsletter after leaving Sports Illustrated in 2020.
Basketball player LeBron James said on Friday in Philadelphia that he was "extremely fond of Grant." When James was in high school, Wahl wrote a cover story for Sports Illustrated.

"Even after I moved up in the ranks and became a professional, he went to a different sport," James remarked at a postgame press conference. "Every time his name comes up, I remember being a teenager and having Grant in our building." "It's a heartbreaking loss."

Other current and past US soccer players, including Ali Krieger and Tony Meola, as well as athletic entities such as Major League Soccer and the National Women's Soccer League, expressed their sympathies.

Wittyngham, Wahl's podcast co-host, told CNN on Saturday that the news of his death was difficult to accept.

"Grant Wahl is the first person you read about soccer in the United States. For a while, he was the only person… Grant was the first individual to pay actual attention to this sport to a significant degree. Wittyngham stated

Several journalists described their experiences reporting alongside Wahl and meeting him at multiple World Cups over the years.

"Before he became the best at covering soccer, he did hoops and was very nice to me," famous announcer Dick Vitale wrote.

The US Ambassador to Qatar, Timmy T. Davis, tweeted that Wahl was "a widely known and much respected writer who specialized in the beautiful game." (Also Read: Germany arrests 25 on suspicion of planning an armed coup)