In raids conducted across Germany, 25 people were detained on suspicion of plotting to overthrow the government.
The group of far-right and ex-military figures allegedly planned a "Day X" invasion of the Reichstag and takeover of power.
They claim that Heinrich XIII, a member of a long-standing aristocratic family, played a key role in their scheme.
He is one of two alleged ringleaders among those detained across 11 German states, according to federal prosecutors.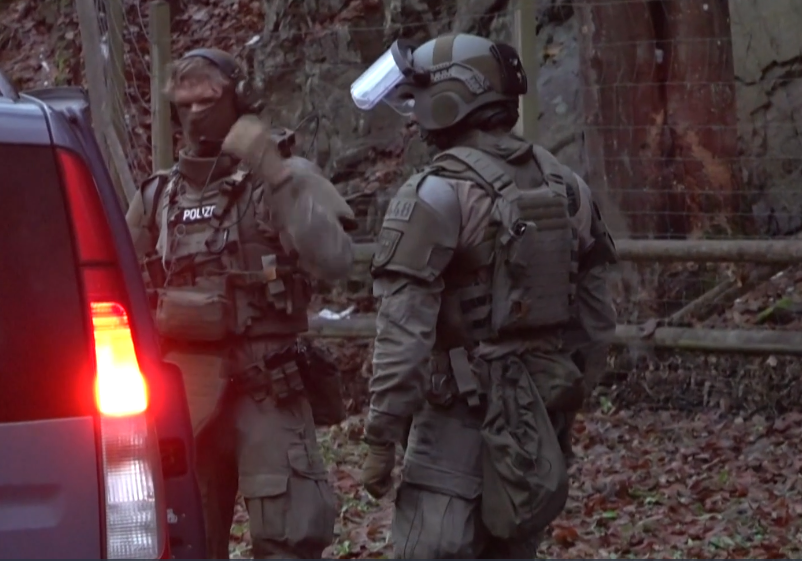 The extremist "Reichsbürger" [citizens of the Reich] movement, which has long been under the radar of German police due to violent attacks and racist and antisemitic conspiracy theories, is said to be among the plotters.
They also refuse to acknowledge the state of modern Germany.
Other suspects are associated with the QAnon movement, which holds that a fictitious "deep state" of hidden forces manipulating politics controls their nation.
The Germans were assured by Interior Minister Nancy Faeser that law enforcement would use all available legal means "against the enemies of democracy."
The Reichsbürger group existed before the pandemic; they are not new. However, this daring scheme suggests greater dedication and radicalization, which may go hand in hand with the spread of pandemic misinformation online.
The abduction attempt on the German health minister, which was planned by a group connected to these individuals back in April, is the first proof that this group has close ties to COVID-19 conspiracy movements.
Conspiracy theories that claim COVID-19 and vaccines are part of evil plans to control populations are popular on Telegram groups affiliated with "citizens of the Reich."
There are posts about QAnon, the vast US conspiracy theory that has ties to the riots on Capitol Hill on January 6th, as well as misinformation about the conflict in Ukraine.
They support the "Sovereign Citizens" movement, which essentially holds the belief that they are exempt from governmental regulations. In the end, this group has appropriated a variety of conspiracy theories that promote the notion that evil cabals are attempting to control our lives and must be overthrown.
To the average person, it might seem like a pretty absurd plot, but it serves as an important symbol.
Anti-vaccine violence and the riots at the US Capitol were examples of offline actions that were linked to online hate and disinformation in the past.
However, this serves as a reminder that despite the pandemic's easing in some regions of the world, its conspiracy legacy endures and can inspire obscure fringe organizations to take action in the real world.
The group, which allegedly plotted to overthrow the republic and replace it with a new state modeled after Germany in 1871—an empire known as the Second Reich—is thought to have included about 50 men and women.
A spokeswoman for the federal prosecutor's office said, "We don't yet have a name for this group." According to the interior minister, it appears to be composed of a military wing and a group called a "council."
According to reports, the dawn raids on Wednesday were one of the largest counter-extremism operations in German history up to that point.
In 11 of Germany's 16 states, 3,000 officers participated in 150 operations, and two people were detained in Austria and Italy.
The southern states of Baden-Württemberg and Bavaria saw almost half of the arrests. The south-western state of Baden-Württemberg alone is thought to be home to more than one in five Reichsbürger.
According to a tweet from Justice Minister Marco Buschmann, an "armed attack on constitutional bodies was planned." The investigation, according to Ms. Faeser, would look into the "abyss of a terrorist threat from the Reichsbürger scene."
The Reichsbürger: Who are they?
"Citizens of the Reich" reject modern democracy in Germany and refuse to pay taxes.
Thomas Haldenwang, head of BfV intelligence, claims that although they were once thought of as harmless cranks, they are now very active and pose a serious threat.
They were around 21,000 last year, but their numbers have since significantly increased. 10% of them are reportedly violent, and antisemitism and conspiracy theories are common.
According to the federal prosecutor's office, the central "Rat" (council) of the group had been regularly meeting since November 2021 in order to plot a violent takeover.
The prosecutor claimed that they had already established plans to rule Germany through departments for health, justice, and foreign policy. Members were aware that using "military means and violence against state representatives," which included killing people, was the only way to achieve their objectives.
When they uncovered a kidnapping plot involving a gang going by the name of United Patriots in April last year, investigators are believed to have learned about the group.
Along with allegedly plotting to kidnap Health Minister Karl Lauterbach and instigating "civil war conditions" to bring an end to Germany's democracy, they were also members of the Reichsbürger scene.
It is believed that a former far-right AfD Bundestag member who was in line to become the group's justice minister was involved in the plot.
A court has rejected attempts to remove Birgit Malsack-Winkemann, one of the 25 people detained, from her position as a judge since she returned to it last year.
The group's foreign affairs were planned to be handled by a renowned attorney, under the leadership of Heinrich XIII, who was 71 years old.
Heinrich was one of the suspects that the investigating judges had requested be held in custody, according to Public Prosecutor General Peter Frank.
The House of Reuss, which ruled over a portion of the contemporary eastern state of Thuringia until 1918, is where Heinrich XIII derives his title of a prince from. He also hails from this ancient noble family.
A few of his descendants still own castles, and Heinrich is rumored to have a hunting lodge in Thuringia at Bad Lobenstein.
The other members of the family have long been estranged from the minor aristocrat; one spokesman claimed to local broadcaster MDR over the summer that Heinrich was an "at times confused" man who had fallen for "misconceptions fuelled by conspiracy theories."
In addition to a shadow government, the conspirators allegedly had military plans led by Rüdiger von P, a second ringleader.
According to officials, they were composed of both current and former military personnel, including elite soldiers from specialized units. Prosecutors claimed that the military wing's goal was to destroy local democratic institutions.
Rüdiger von P is suspected of trying to recruit police officers in northern Germany as well as spying on army barracks. According to officials, bases in the states of Hesse, Baden-Württemberg, and Bavaria were all examined for potential use following the overthrow of the government.
Police searched the home and room of one of those under investigation, a former Special Commando Forces soldier, at the Graf-Zeppelin military base in Calw, southwest of Stuttgart.
Vitalia B, a Russian woman who was asked to contact Moscow on Heinrich's behalf, has been named as a second suspect. According to a statement, the Russian embassy in Berlin "does not maintain contacts with representatives of terrorist groups and other illegal entities."
In recent years, the far-right in Germany has been implicated in a number of violent attacks. In the western town of Hanau in 2020, a 43-year-old man shot and killed nine foreigners, and in 2016, a member of the Reichsbürger group was imprisoned for the murder of a police officer.
Up to 21,000 people are thought to be affiliated with the Reichsbürger movement, with 5% of them considered to be on the extreme right.